Kellogg's du Domaine d'Haïsha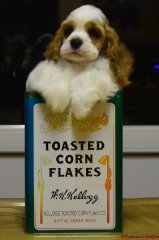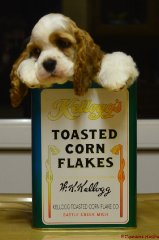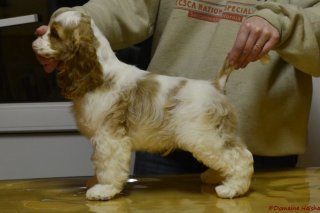 "Kellogg's du Domaine d'Haïsha" is the only one (and the one & only

) pup from "Kamp's Normandy's Detor 'n' Simon Says"  (owned by Mr Danny Buttjens, "Blossomridge") and our  "Forman's Crystal Palace".
He's, of course, an American Cocker Spaniel boy, orange & white.  
He's born on 13th November 2011 and is available from 16th January 2012.
He's vaccinated, microchipped, treated against worms and in perfect shape.
He's also very well socialised : already used to go in the garden, to travel by car (in a cage), to the other adult dogs,  to the cats, and to walk on a lead.  He was already bathed and trimmed several times.  He is also getting used to be "clean" in the house (like a puppy can be, of course).
Please contact us if you want more information about him.
Update from 05/02/2012 : Little Kellogg's just joined his new family.  We wish them the best !


Dernière mise à jour photos & vidéos (playlist) 03/02/2012 - To see the other videos faster, put your mouse arrow in the bottom of the video, and click on the rectangle, then the following videos will appear, you will just have to click on one to see it.