Goodbye Martha …
Goodbye Martha …
I think that, if we would write our breeder's memories, it would include this one, even if it doesn't concern our breed.
Our Finnish friend, Sirpa Huusari (Scottish Terrier breeder, "Sirkiss"), asked us in 2003 if she could stay a few days in our home with Vaino  ("C.I.B Fin & Se & No & Ee & Lv Ch FinJW-99 LvW-01 FinW-00 FinW-01 FinW-02 FinW-03 Quaint Goodwill"), her beautiful dog, because an English breeder asked to use him for her bitch Martha  ("Sh Ch. Berrybreeze Fire Cracker"). 
So, we  were all together in Belgium, with Clair Chapman, her English camper – and Martha of course, and Sirpa & his gentleman Vaino, for a few days, a few hilarious days can we say … We spent some wonderful evenings, and especially unforgettable friendship moments …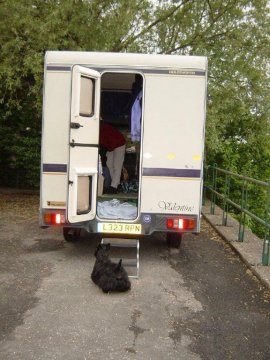 We even went to Antwerpen dog show with everybody and … followed by the camper … lol
And Sirpa shown Xeryus, who was awarded Best of Breed !
From that super union were born 5 puppies.
Most famous are Ch.Berrybreeze Ilumination "Lumo" and his sister Berrybreeze Enlightning "Maisey". Both have been excellent show & stud dogs. For example Lumo´s son is the European Winner 2009.
Lumo got CC at the Crufts 2006.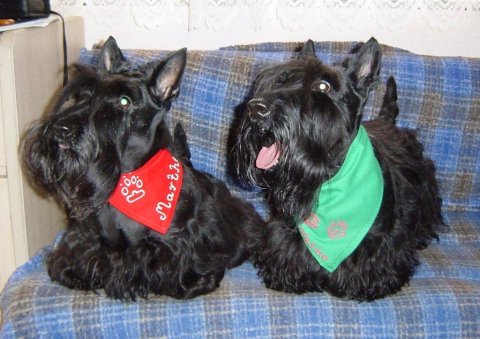 But we have to say that both of these dogs, Vaino (who left us in 2008) and Martha were, I think, for their breeder, the « once in a lifetime dogs », these ones that we know it was a great luck to have them, and that we can only regret them, they gave us all, they put their footprint in all the line, we can see them in all the following generations … Like Soraya & Billy here …  
Now, we are sure that they are together, in the "Rainbow Bridge" …
We are with you, Clair, we know how deep your sadness is, as deep as the love that you had for each other !
Hanson Family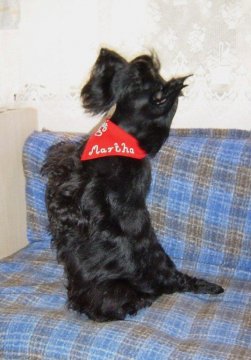 Carol Hanson a écrit le 8 February 2012 dans
Non classé