Belgian English Cocker Club Championship Show – 29/04/2012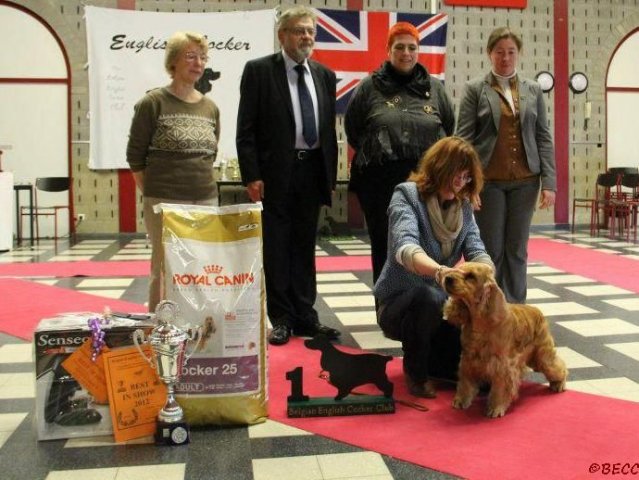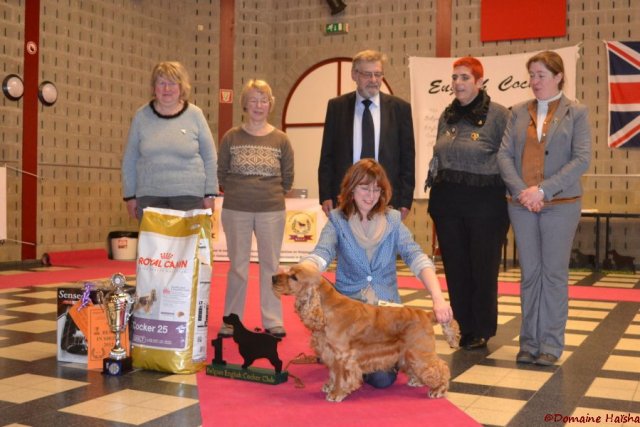 BEST IN SHOW  !!! : our "Joe du Domaine d'Haïsha" (Dt JCh Jerry Lee Made in Austria x Gloria du Domaine d'Haïsha)
THANK YOU Joe for the wonderful day you gave us, so rich in positive emotions !  Last year already, you won the Best Junior In Show under Mrs Wilma Reid (UK), with the comments "Everything gorgeous on him, fab head + shoulders, ticks all the boxes".
And, this year, you win the consecration in intermediate class, although you aren't 2 years old yet !!!
Remind us that our Joe is coming from OUR internationally known own maternal line, about 7th generation !!!!
Comments from Mrs Jean Gilmour (UK), the judge of the day :
"Mature head, well ciseled, deep brisket, deep well spring ribs, well boned, good feet, good transition over shoulders, short in loin, strong well angulated rear, moved with good rich and drive, with ever wagging tail, good cocker temperament, best so far, excellent mover, kept good topline on the move."
Joe has already, until now and only in a few shows : 1 RCAC in Luxembourg, 5 CAC, 1 RCACIB à Lausanne, 1 x BIS Junior, Luxembourg Junior Winner, 1 x BIS Belgian English Cocker Club Show !!!
 We're all so proud of us, of our work and our dogs because, as you all know, here, dogs are a family affair !
… and that great result isn't the only one in our team that day … Our Katia (Bjsg '03, BW'06, BW'07, Lux Ch, VDH Ch, Be My Honey du Domaine d'Haïsha", 9 and half years old, offered us the title "BEST VETERAN IN SHOW" !
Congratulations Carol & Katia, once more a super team, internationally known too, lol … Your first champion, isn't it ?  What a nice couple … 
Katia's judge critique : "9,5 years old, quality head, strong body, good bone, good angulation all through, good temperament, excellent mover, keeping good topline, happy tail action."
Without forgetting to congratulate Tim & Evy Roobaert-Lenaerts, "Kasper du Domaine d'Haïsha" owners, Kasper was awarded Best Puppy Male in that show !
TKANKS to our friend Gabriel Coléry for accepting to show Katia for the BIS final.
THANKS to the judge and to all our friends there for their support (and not the least) and BIG congratulations to the Belgian English Cocker Club committee for the wonderful gifts, the warm atmosphere, and for the PERFECT organisation, as usual !
Sabine, Joe's very proud owner & "mum", who wasn't there that day because she was nursing Joe's puppies