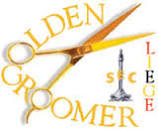 01 August 2014
Written by Carol Hanson
For the second year, I had the great pleasure to take part to the « Golden Groomer » judgment.
This time again, some nice people, a super atmosphere, and a lot to learn … Thank yoCette fois encore, de belles rencontres, une super ambiance, et un week-e everyone, and congratulations to all the competitors and to the winners !!! (nice score, with 55 entries for this 11th edition, competitors coming from 10 different countries !) .
Thank you for your great work, your patience, your good mood, even with the very hot weather and even when we had to face to a power problem on the Saturday morning. We apoligize again for the inconvenience.