Published on 13 August 2014
Written by Carol Hanson
&nbsp
Lovely feeling to enter in an outdoor show ; even if the weather was cloudy, we had no rain, that wasn't the case in Belgium …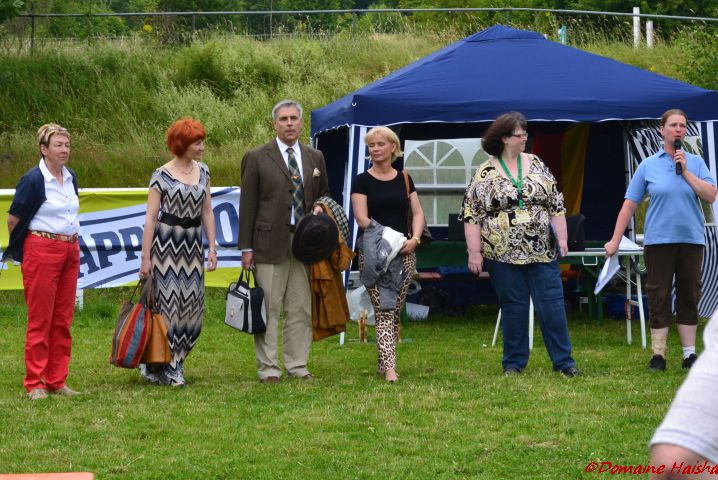 ---
Under Mr Tamas Jakkel (Hungary), Juliet got a 3rd excellent in open class.
Lovely head and expression, she carries some overweight, good neck and shoulders, short upper arm, good coat quality, well angulated hind legs, correct croupe and tailset, correct front on the move, she has excellent reach and drive.
---
Under Mrs Elena Ruskovaara (Finland), our solids got :
2nd Excellent – Réserve CAC for Ch Jenny Wren du Domaine d'Haïsha (« Jean ») in Champion class.
Excellent type, very feminin, beautiful rear, well ribbed, moderate neck, excellent bones and feet, a bit straight shoulders, very feminin head with nice eyes, a bit narrow muzzle, parallel enough lines, beautiful tail carriage and nice topline, a bit busy front movements, correct lenght of steps.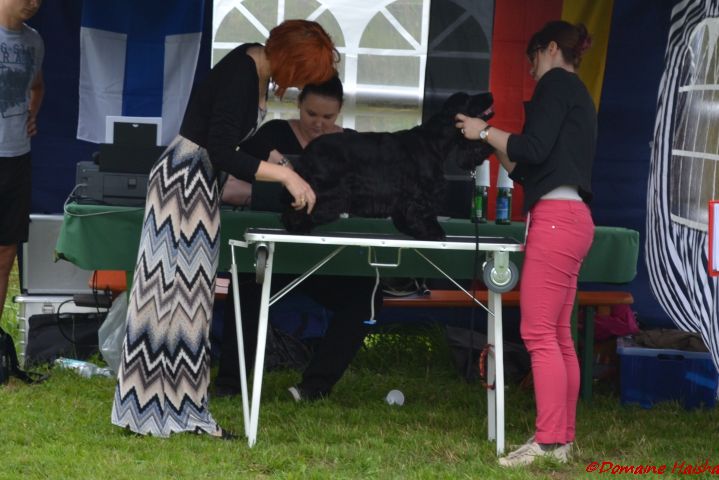 ---
1st Excellent – CAC for Isabella du Domaine d'Haïsha
Excellent type, beautiful bones, nice cobby body, excellent rear angulations and nice muscles, correct ribcage, strong neck, very nice headtype, a bit lose eyelids, very nice lines, beautiful expression, excellent coat and condition, very nice tail carriage and correct topline, nice parallel rear, correct length of steps, calm but happy character.
---
1st Excellent – Junior CAC for Maggie-May du Domaine d'Haïsha
Excellent type, nice bones and strong rear, excellent volume in body, well ribbed, moderate neck, beautiful forechest for her age, nice dark eyes, and calm expression, parallel enough lines, very nice coat, correct movement and nice length of steps, correct tail carriage.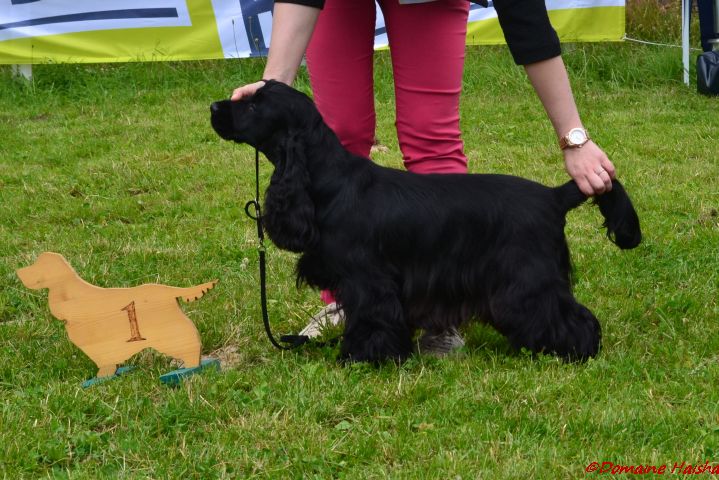 ---
1st Excellent – Veteran CAC for Ch Be My Honey du Domaine d'Haïsha (« Katia »)
« Eleven years, very nicely kept beautiful bitch, very nice bodytype, excellent proportions, still holding a beautiful topline, excellent rear angulations, beautiful forechest, beautiful head, gorgeous expression, correct coat for her age, excellent tail carriage, beautiful balanced front and rear movements, excellent presentation, and very typical happy character".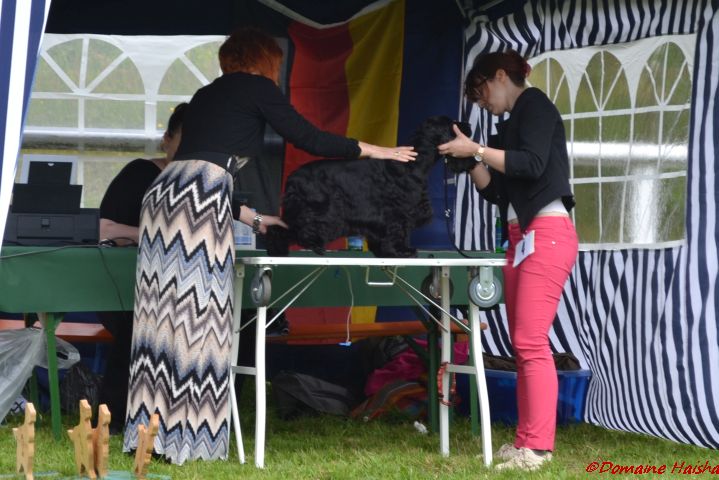 ---
Later, Mr Jakkel judged the main ring, and gave to Maggie May and then Best Junior of Breed (and « Siegerland Jugendsieger ») and to her grandmother Be My Honey du Domaine d'Haïsha the « Siegerland Veteranen Sieger » and Best Veteran in Show !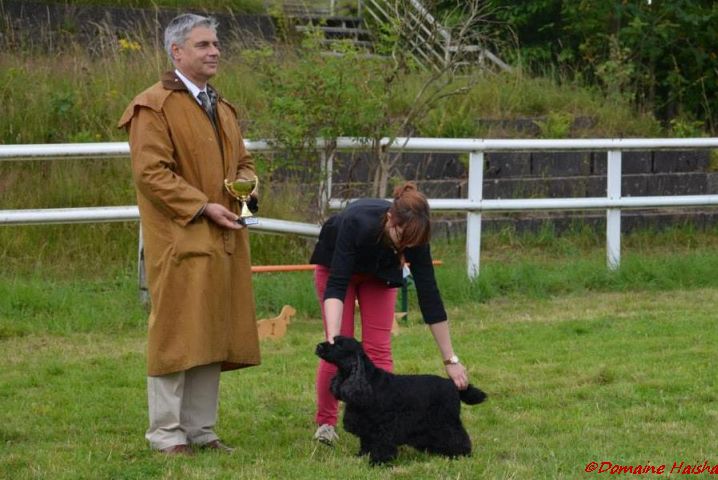 Our 3 black also got the Best Breeding Group, we're very proud to show 3 generations, from Ch Be My Honey du Domaine d'Haïsha, 11 ½ years old, to Maggie May du Domaine d'Haïsha, , nearly 14 months old.
People in this conversation
Important news
Our online shop
Last March, our online shop had a total refreshing.
We propose you "Cocker" specific stuff, as well as grooming supplies, toys, calendars, and many other things.
Feel free to visit it and come back regularly, we will have regularly new articles, as well as promotional offers. ...
---
Current litter
English Cocker : We don't have any puppy available or to reserve, and we won't have any other litter at least before September/October. But you can always contact us for any question regarding the...
---
---